What's Here
The "old" Frank Site

A Better Country Items of Interest

Hoc Non Est Blog

Some Stories

SHRL Jr.

Links We Like


Blogs We Like
Lise
Moosebugs Xanga

Ann B
Anne
Cindy
Dawn
Eleanor
The Gnu
Heidi C
Rev. Jack
John R
Jon B
Kelly C
Lois
THE Tim B
Valerie

Anne's Older Site
<! -- not active --> <!a href="http://idelette.blogspot.com/"Idelette/abr> <!a href="http://bonsaient.blogspot.com"Jane D/a (on hiatus)br>
Feedback
Not A Comment

Archives
8/31/2003 - 9/9/2004
9/16/2004 - 3/25/2005


<! And here is the main body>

Hoc non est blog
Well, it isn't! Yes, it has a date under which there's an entry describing some aspect of life here at the Moose ranch, or some comments on the world and culture at large, but this really isn't a blog. It's more like..... a web site that can be easily updated! Look - there's not even a comment system. Can't be a blog without a comment system.... Anyway, here it is. Enjoy.
---
Thursday, September 09, 2004 @ 09:24 PM


And Another Anniversary

Last Tuesday, August 31, was the one year anniversary of the first entry in this not-a-blog. Hard to believe that it's been a year already.

Now I have to figure out how to implement an archive.

- Byron

Permalink ::
---
Thursday, September 09, 2004 @ 09:14 PM


Happy Anniversary To Us!

Today marks the completion of 15 years of marriage for Lise and I. Tomorrow we start working on year number 16. We're both thankful to God for bringing us this far, and for all that he's done for us.

I had secured the services of a babysitter without Lise knowing it. We had dinner at the Ligonier Tavern, and walked around the quiet sidewalks of Ligonier. The rain had stopped, the evening was still warm, our hands were together, and all was right with the world.

- Byron

Permalink ::
---
Friday, August 20, 2004 @ 08:39 AM


Politically Correct Fruit?

Why is it that I can't buy prunes anymore? I have to buy dried plums. When did purplish fruits get their own lobby? Next, I won't be able to get raisins and will have to settle for dried grapes.

Maybe I should get a bottle of squashed grapes and ponder this.

- Byron

Permalink ::
---
Monday, August 16, 2004 @ 03:39 PM


How To Have Fun at a Chinese Restaurant

Here's a way to have fun at your local Chinese restaurant - whether it's a Cheap Buffet or an Oriental Palace...

Teach your six year old children to say "Shay Shay", and have them say it when the waitress brings something and when they leave. Guaranteed to bring smiles and surprised looks to the staff.

Oh, you'd like to know what it means?

It means "Thank you." "Shay Shay" is the way I chose to spell it - I have no idea what the transliteration would be, so I went with the phoetic spelling.

The girls have known the correct answer to "How do you say 'Thank you' at a Chinese restaurant?" for a couple of years now. The waitresses think they're bilingual.

- Byron

Permalink ::
---
Friday, August 13, 2004 @ 10:36 PM


House For Sale

Finally got it listed. The picture's not very good; there's a better one that I wish they'd put up.

- Byron

Permalink ::
---
Wednesday, August 04, 2004 @ 10:34 PM


Teeth, Drives, Small Towns, and Birthdays

A Trip To The Dentist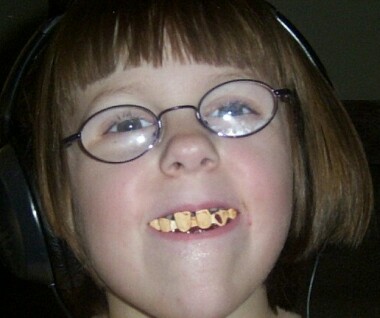 The other day, the girls went to the dentist for their yearly checkup. You might think they needed it, based on the picture above. Well, not really - Abby's showing off her fake teeth from a goodie bag (more on that below).

Their permanent teeth are coming in, and their baby teeth are starting to leave. The dentist noted that some of the new teeth were coming in crooked, and some of the baby teeth were loose, so he numbed them up and pulled a couple. Abby had two pulled (one about 1 cm long!) and Emily had one pulled, to go with the one she lost earlier. This meant, of course, another visit from the tooth fairy.

Emily started peppering Lise with questions - "Where does the tooth fairy live?", "What does the tooth fairy eat?", etc. etc. Then she stopped and asked:

"Does the tooth fairy have lips?"

We're still trying to figure that one out.

Sunday Drives

One of the pleasures of childhood was getting into the car and setting out for nowhere in particular. I would claim to be lost, and Dad would tell me to let him know when I knew where we were. I have continued this tradition with the girls.

A couple Sundays ago, we set out for nowhere, leaving Lise behind to rest. After wandering around in the country, and finding some truly beautiful vistas, we wound our way down to Johnstown, where I surprised the girls with a stop at the Johnstown Inclined Plane. We rode to the top, walked around a park and found a playground, stopped for ice cream, and rode back down again.

The Johnstown Inclined Plane claims to be the world's steepest plane, also known as a funicular. It is also one of the few which carry automobiles, which makes it a vehicular funicular. We didn't take the van up this time, but certain readers of this not-a-blog might remember another time when we did take a car for the ride.

Last Sunday, we (all four of us this time) headed out in a different direction. Eventually, we came back to town, and stopped at the playground to let the girls get some air and sun and fun. There was another small group of girls about their age there. At one point, one of the mothers came to me and said "We're about to cut and serve the cake, would you like to join us?"

And so that is how we ended up being impromptu guests at another girl's birthday party in the park. She was having her sixth birthday. The girls had cake and each received a goodie bag. And this was before their own birthday.

Small Town Niceties

There is a very nice library in town. They loan out not only books, but videos as well. There is also a video rental store in town, family owned, with a good selection. We were returning items to both places Saturday in the rain.

We put all the items in a plastic bag and ran into the library, and left everything at the desk. Later that day, Lise realized that she had returned a video store video to the library. She called the video store, and explained the situation. A few minutes later she got a call back from the store - someone from the library had returned the video that morning.

Picture that happening with your local Blockbuster and your big city library!

Birthday Girls

And now they are six. Where does the time go?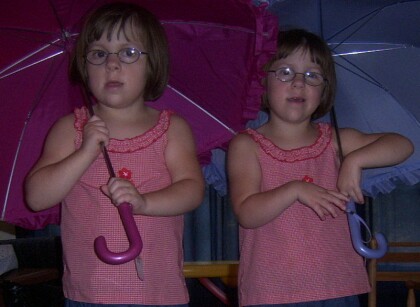 The big day was Monday. Gifts were gratefully received from Grandma, Grandpa, aunts, uncles, and cousins. Some of the highlights were the new umbrellas, lots of "Little People" toys, the requisite clothes, and a dollhouse taller than they are.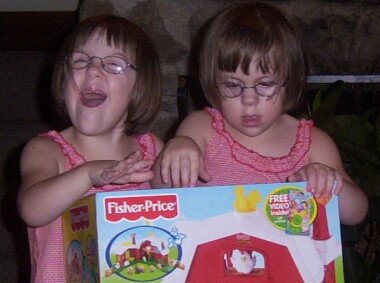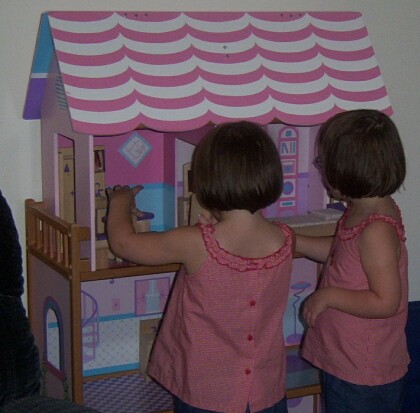 The celebration continues this weekend with a trip to the annual Twins Days festival in Twinsburg, OH. This will be our fifth year there. The girls love the parade.

- Byron

Permalink ::
---
Wednesday, July 28, 2004 @ 10:01 PM


Political Musings

If John Kerry wins the electoral vote (as we all know, it's the electoral vote and not the popular vote that counts), then Tuh-RAY-zah Heinz Kerry will become the USA's first African-American First Lady.

- Byron

Permalink ::
---
Friday, July 23, 2004 @ 11:56 AM


Well, that didn't take long

The feedback system is only in place for a few days, and already a web-crawling miscreant bot has harvested the e-mail address and sent me spam.

So far, the signal to noise ratio is 1:1

May have to rethink how to put in a feedback mechanism......

- Byron

Permalink ::
---
Thursday, July 22, 2004 @ 12:37 PM


Another Odd and End

(What is the singular of "odds and ends" anyway?)

Bubble and Squeak makes a wonderful supper. Maybe this should go in the list of things for which to be thankful!

- Byron

Permalink ::
---
Thursday, July 22, 2004 @ 08:07 AM


Odds and Ends

Some odder than others.

Look! A Feedback Link!

No, it's not really a comment system. There is now a link over there on the left that will let you, dear reader, send a note to the notabloggers. The e-mail, naturally, is "notacomment at moosebugs.com"

Polite Disobedience

Emily (well, both girls actually) are being trained to speak more politely to others. I think it's working. Now, when Emily is really insistent that she does not want to do what she's being told to do (e.g. come in from outside, go upstairs to bed), she says,

"No, Thank You! No, Thank You! No, Thank You!"

Strange Vegetable

The sweet corn is in. The roadside stands are set up. And one of the joys of summer is eating a fresh piece of corn with butter and salt on top. We use little "corn grabbers" to hold the corn to facilitate eating without burnt fingers. The girls must have other names for them. We were discussing getting some corn at the Farmers' Market and Emily asked,

"May we get corn on the knobs?"

Hobbling Along

On July 5th, I sprained my ankle. Rather severely. I was helping the girls get into the big pool (at the shallow end) at Idlewild. I told them to sit on the edge, and I would get in first and get them in. I jumped in, and my ankle twisted inside under me. The pain was rather great. I applied some immediate hydro-therapy.

The pain wasn't any better the next day, so I had it X-rayed. Results: no break, just stay on crutches for three days. At work, I found out that a cow-orker (n.b. that's on purpose) had also sprained his ankle and was on crutches for three days. His story was much more glamorous, though; he had been wake-boarding behind a speedboat. All I did was try to get my kids into the pool.

By now, the swelling's gone down, though not all the way, and it feels quite a bit better.

And yes, this was a couple days before the transmission incident (see below). Which, by the way, was indeed only a couple lines, and easily handled.

Season Tickets

I've probably mentioned it before, but it sure is nice to have season passes to Idlewild. On Monday's, each person who has a season pass can bring a buddy at no cost. One recent Monday, we took friends Mike (another cow-orker) and Maria, who are moving into the area from Connecticut. Mike was in town for a training course, and Maria came to get their new house ready. We wanted to get together in the evening, and rather than suggest something ordinary like eating at a nice restaurant, I suggested Idlewild. Mike love it. "Look, rides!" Maria did, too, I think. It was also nice to have someone else to take the girls on a ride for once. And Maria (mom to four boys) got to be a "girl mommy" for just a little while. We're looking forward to their permanent arrival.

Toy Shopping

The girls' birthday is coming up, and we decided to wander through the dinosaur store (toysaraus) to see want they'd like. I told them that it was a "toy museum" and that we could only look, but not take anything home. I wonder how long that ploy will work?

It was quite educational, though, for us. Every now and then they would see something and ask "May I take this home?" All the while, we were making mental notes about what we should get for their birthday.

New DVD

One of the purchases we did make at the toysaraus was... ummm... for the girls.... yeah, that's it. It's for the girls.... schooling! And Education!

I (I mean we) picked up the special edition of the Schoolhouse Rock DVD - a 2 DVD set with all the original songs, and other extras as well. Now I can teach the girls to sing "Unpack your adjectives," "Lolly, Lolly, Lolly get your adverbs here," "Interjection!" and others. I'm sure I'll (I mean they'll) get many happy hours of enjoyment out of it.

Thankful Thursday

So, what am I thankful for this Thursday?
My wonderful wife.

My wonderful children, who continue to amaze.

Wraparounds. (No, it's not a sandwich.)

Season passes.

And many other things....
- Byron

Permalink ::
---
Thursday, July 08, 2004 @ 08:38 AM


So What Am I Thankful For?

Yesterday on the way home, something happened to my car. I started out from a stop light, felt an almost imperceptible anomaly in the shifting, and then noticed smoke pouring from the back of the car. Oh bother. I pulled off the road (leaving tell-tale trail) and parked. When I stopped moving, the smoke started coming through the air vents. Not a good sign. I hopped out, popped the hood, and noticed large quantities of a petroleum based liquid depositing themselves on the pavement. A quick dip of the finger confimed that it was transmission fluid. Something bad had happened.

So, what am I thankful for?
That the incident occurred in a commercial stretch of the road, and not in the middle of nowhere. I had pulled into the mall parking lot and used the phone in the mall.

That the incident occurred on the way home, and not on the way to work.

That I was halfway home already.

That the car was less than a mile from the Buick dealership, well within the 3 miles allowed by my basic AAA membership.

That I have an AAA membership.

That this did not occur in the middle of winter, when it's cold and potentially snowing.

That this did not occur in the middle of the thunderstorm which had just passed through.

That a mechanic followed my trail as I was waiting, checked under the hood, and indicated that it was likely a transmission line and not the entire transmission.

That my wife and children were willing and able to come and pick me up and get a McD's supper to share in the parking lot while waiting for the tow truck.

That my father recently gave me his old Chevy van, so that I am not without transportation.

That, as difficult as it is to see sometimes, EGEATP.
And yes, this will also mean a delay in getting the Moose and Sprite pictures up.

- Byron

Permalink ::
---
Tuesday, July 06, 2004 @ 08:14 PM


This Isn't Part Of Worship

Prior to this weekend, the local weekly paper carried a notice from a nearby PCUSA church concerning a "special holiday service with a patriotic theme" instead of their usual Sunday morning worship. The service would include the presentation of the US flag and the Christian flag, and pledges to the flags would be led by members of the youth group. Also included would be a patriotic reading, and the speaker for the worship service would be a lady from a couple towns over.

This is probably but one example - I'm sure there's other churches out there that turned the July 4th Sunday Worship service into something other than worship.

As I realize more and more what worship really is, and what does and does not belong in a worship service, the more I think that such things as the service described above don't make the cut. That church, which should have been gathered to acknowledge Jesus Christ as prophet, priest, and the Only True King, was instead pledging allegiance to the state and acknowledging the government as their king.

Patriotic services, in and of themselves, are good and proper as civic meetings for the purpose of remembering the founding of a country. But they have no part in a service gathered for the purpose of worshipping the one true God, singing His praises, receiving the gospel of His Son, and meeting that Son in fellowship around the Lord's Table. I would rather simply hear the Word preached and feed on Christ (and that is what I did) than see a hundred flags waved or hear a dozen patriotic melodies sung or listen to a stirring speech about the founders of our country. "Sir, we would see Jesus!"

The collect for the Fifth Sunday After Trinity, from the Book of Common Prayer, seems much more appropriate:

GRANT, O Lord, we beseech thee, that the course of this world may be so peaceably ordered by thy governance, that thy Church may joyfully serve thee in all godly quietness; through Jesus Christ our Lord. Amen.

- Byron

Permalink ::
---
Tuesday, July 06, 2004 @ 07:58 PM


I Can Name That Tune In One Note!

Tonight, after the reading of the Psalm (Number 19, appointed for the evening of the Monday following the Fifth Sunday After Trinity), we were deciding what song to sing. I suggested we do number 508 (Red Trinity Hymnal) and Emily said "What's that song?" I hummed the first note, making sure to pitch it low enough so that we wouldn't exceed our capability on the high notes. With just that one note and the page number as clues, Emily said:

"Jesus Lover Of My Soul!"

And she was right.

- Byron

Permalink ::
---
Friday, July 02, 2004 @ 03:40 PM


Look! Permalinks!

I think I've got this working now. New posts will have "Permalinks" shown at the bottom. Old posts will be updated as I get the time.

- Byron

Permalink ::
---
Thursday, July 01, 2004 @ 08:44 PM


Five Year Old Groupies?

Way back in 1999, just one short month before the Amazing Frank Twins came into our lives, Lise and I were visiting Erie, PA for a getaway weekend. The Erie Maritime Museum was putting on a concert by a Canadian group called Tanglefoot. We didn't have anything else to do that evening, and so bought the tickets and expected to join the crowd. The crowd consisted of about a dozen people, gathered around tables on a plaza in front of a replica sailing ship, the Brig Niagara, on Erie's lakefront.

We quickly became fans. The group's repertoire ranges from rollicking good songs about life and history to sad, sweet ballads about love old and new. They sang about mining disasters, hockey games, and Alexander Graham Bell's Silver Dart. After they sang what was to be the last song of the evening, Vimy, a cappella and haunting, the rains came down and ended the show.

We introduced the girls to Tanglefoot in the summer of 2001 in Erie, at the same location, and the crowd was much bigger. We returned in 2002 as well. With each trip, we added to the CD collection for the car, and the girls were getting to know the songs rather well. Lise and I caught Tanglefoot in 2003 in New Hampshire, and we were pleased to find that they'd be at the Erie Summer Festival of the Arts this year. 'Twould be the girls third time seeing them in concert, and our fifth.

The girls were excited about the concert, even though they were quite tired from a busy week at Vacation Bible School at church. The Tanglefoot set started late because earlier acts overran their allotted time, and the girls kept asking "Tanglefoot sing yet?"

But sing they did. We sat on the green lawn and watched. While Lise and I enjoyed the by now quite familiar songs, the girls were in seventh heaven. They listened, they watched, they danced to Midwife's Dance and they clapped. The band was convinced to do one more song, and I took the girls down to the front row of chairs so they could get a good look. They did one of Abigail's favorites, Radio Man, and she was bouncing right along.

The most interesting part came after the show. We wandered over to the CD table and bought a DVD of a live concert by the group. The members of the band had made their way out to meet and greet, and the girls were introduced to Al, the bass player, Steve, the guitarist, and Brian, the pianist. All three were quite nice about meeting the girls and signing the DVD. Al in particular spent some time talking with the girls, and Abby kept staring up at him saying "You played on the stage!" She also wanted to know why they didn't do another of her favorites, Steer Away (Backyard Sailor).

It was hard to tear them away from the band. Lise was waiting patiently for us to get back to the motel and put the girls to bed.

I realized then that we had a couple of five year old groupies on our hands.

We spent the weekend in Erie and walked along the lake on Saturday morning, drove a little and let the girls sleep, and visited the Erie Zoo in the afternoon.

In the evening, we visited our friends Ray and Jane who had graciously invited us for pizza and ice cream. We all enjoyed our time with them both at their house and at a local park afterward. They are doing a fine job of raising their family. Susie, the same age as the twins, was delightful, Christopher is growing into quite a young man, Joshua demonstrated his ability on the violin, Anna helped out a lot, and Maria (the quiet one), together with Susie, helped to keep the girls entertained. Pictures will follow.

Sunday, we joined the Ray and Jane at their church, and for a church luncheon afterward. That marked the fourth time that we had visited. The first time, in 1999, we sort of knew who they were, through some mutual friends. In 2001, we had not officially "met" online yet, but I knew who they were, and surprised Ray by referring to him as Tom Bombadil. Since that time, we've gotten to know each other, and the 2002 get together is preserved in pictures here.

On the way back home, Abby set a record for sleeping in the car - a solid two hours. I think she was a little tired. Emily got almost as much.

And, we got back in time for our own church's VBS closing program, in which the girls said a verse with their class and sang some songs with the whole group of kids.

- Byron

Permalink ::
---
Monday, June 21, 2004 @ 09:46 PM


My Father's Day

On Father's Day, I was the first to rise. I made myself toast and eggs for breakfast. Next, I got the girls up and made sure they were fed. After breakfast, I got the girls headed towards the shower, and helped to dry them off and dress them for church. We still had time enough before leaving for me to get the steak into the marinade. (I found a good ginger-garlic recipe.) After church, I grilled the steak and cooked the vegetables (side burners on a grill are a wonderful invention) and we all had lunch.

The afternoon was quite restful. The girls drank a bit too deeply from the well of afternoon nap and remained awake far too late into the evening. I had the privilege of hearing Dr. Jack Kinneer preach at the evening service.

There were gifts appropriate for the day, picked out by my wonderful wife - a good pair of shorts, and a barbecue tools set with Craftsman screwdriver-like handles - and some cards. But the most prized gift was a set of handprints that were traced and glitter-glued by my wonderful daughters. The clothes will wear out, and the tools will lose their like-new shine, but I will always have my daughters' hands to hold.

It was a good Father's Day. I enjoyed being a father, thinking about my own father, and worshipping our heavenly Father.

Today Lise and the girls started Vacation Bible School in the mornings at church. Lise is helping in the first and second grade class, and the girls are in the 4-5 year old class. Their teacher is the same one they have for Sunday School, so there's no problem with transitioning to a new face. Between Bible School and afternoon wraparounds, there was no time for a nap. I had two tired girls on my hands this evening.

As I was getting Emily and Abigail ready for bed (Monday is Lise's evening out with friends), Emily reminded me again "You're my Daddy!" Abigail's the quiet one, content simply to snuggle in for her bedtime cuddle.

We read a Psalm (23 - "The Lord is my shepherd"), sang a hymn ("The King of Love My Shepherd Is") and prayed for family and friends both near and far (include those we've met and those we haven't yet). The girls were asleep by the time I finished praying.

I paused for long moments beside their beds and watched their forms rise and fall beneath the sheets. Their simple trust is that everything will be OK. "S'OK, Abby. S'OK, Emmy. S'OK, Daddy."

How wonderful of God to bring these bundles of love into our lives. I said a silent prayer, thanking God for my own father, and asking that God would make me the father that my girls need. In time, I know this prayer, too, will be answered.

Happy Father's Day.

- Byron
---
Thursday, June 17, 2004 @ 08:26 PM


Milestones

OK, so this first one is probably not a big deal to those of you with developmentally undelayed children. But....

Yesterday, Emily jumped down from the first step.

That may be a ho-hum event to some, but to us it qualifies as a Big Deal. She has been jumping in place for some time now, with both feet leaving the floor at the same time and returning at the same time. The challenge has been for her to translate her position through space - add a horizontal component to the vertical vector. The simple act of jumping off a step involves a series of complex movements. For Emily, it was a challenge.

But yesterday, she got it right. And did it again. And again. And again. And again. And bargained to do it more before bed. She's getting better with practice.

One thing that I observe when we were teaching the girls to crawl is that they did not like to be separated from the floor. It was a big deal to actually pick a hand up from the floor and move it forward, followed by picking up a knee and moving it forward. Walking was even more interesting. They had to learn to pick up a foot all the way and move it forward in space. And for one brief moment, all that's connecting them to the ground is that one little other foot. So convincing them that it's OK to jump - to have both feet completely separated from the floor - was an undertaking. I found out later that this is something common to developmentally delayed / autistic spectrum children.

Abby is trying to jump from the step as well. She can do it with help - Mommy's hands. But if she tries herself, it's still more of a two-step.

The other milestone - which surprised us all by being right on schedule age-wise - is that Emily now has her first Loose Tooth!

It's wiggling all around in there. Lise tried to wiggle it loose today, but it remained anchored. Emily is still trying to come to grips with the idea of losing a tooth and having it be replaced by another one. And then there's still the whole Tooth Fairy thing....

It's interesting how the girls are right on time with some things, and delayed with others. Keeps us on our toes. And also reminds us that Everything's Going Exactly According To Plan (EGEATP).

- Byron
---
Tuesday, June 15, 2004 @ 09:05 PM


The Outer Banks Trip

Before the memories fade completely, I'd better get something down on paper or pixel about our little trip at the beginning of the month of May.

Saturday, Day 1 - The Long Drive - We started out from the house just before 8:00 AM and made good time (only one stop) to Fredericksburg, where we stopped for lunch at a Burger King. We continued on past Williamsburg, Hampton, and Newport News, and thought of Kelly, who's church we had visited last September. The weather was pleasant, and we had a good ride down into North Carolina. We stopped at a roadside farm stand for some fresh asparagus to have with dinner that night.

We arrived at our destination at around 5:00. On the whole, a reasonable drive. Our condo was a "third" floor condo, but since they don't start counting until the second floor, we were really on the fourth floor. The place, The Golden Strand (Kill Devil Hills), had suffered lots of damage during the hurricane last fall. The elevator was broken. I made many trips up the flights of stairs with many bags.

It was then that I realized that one bag was missing - the one with our Sunday clothes. My jacket, Lise's dress, the girls' dresses, etc. There's always something that happens. A quick trip to K-Mart remedied the most serious of issues. K-Mart, however, is not the first place we had wanted to visit.

Our unit was a staggered side unit. We were not directly fronting the ocean, but the balcony peeked out from behind the front unit and we had an excellent view of the ocean. The ocean breezes were quite pleasant.

Sunday, Day 2 - Church in a Funeral Home - I had previously made contact with the pastor of something called the Outer Banks Reformed Fellowship to ascertain time and location of the morning service. The directions were to a funeral home in Manteo. We arrived just before the service time and found that there did not appear to be anybody else there. After a short wait, we went inside and met the pastor. A few others were there as well. I estimate that our family doubled the size of the congregation.

The service was held in the chapel of the funeral home, an agreeable place to hold a service, with proper pews and atmosphere.

As the service was about to begin, the pastor looked over at us and said "Does either of you play the piano?" Well, I cannot tell a lie, and so I admitted that I did. I was then invited to have a seat at an ancient Hammond drawbar organ. The pastor was glad to have a real live organist instead of the digital contraption that they usually used.

After the service, we stopped for lunch at a restaurant called "The Dunes." Found out that Abby and Emmy both like flounder. They gobbled up the kid size portion that we split between them. Even though it was kid-sized, there were about 7 decent size flounder pieces on the plate.

Sunday was a good afternoon for a quiet repose for everybody. Vacations are supposed to be restful.

Monday, Day 3 - The Rains Came - Heavy rains, light rains, sometimes the clouds almost breaking up. But rain it did, so Monday was a mostly inside day. It all worked out, though - we got caught up on some more rest.

Tuesday, Day 4 - Beginning to Explore - Tuesday, we ventured off the Banks to Roanoke Island, and visited some formal gardens as well as the Lost Colony site. The girls enjoyed the picnic lunch under the trees.

Wednesday, Day 5 - Wright On! - From the top of the steps leading to our condo, we could see the Wright Brothers Memorial - up on a dune, with a beacon on top. We visited the site Wednesday. They have the distances of the first four flights marked off. We walked up the hill to the memorial - it must be the highest point along the island. Which isn't really saying that much.

Thursday, Day 6 - Down the Cape, Up the Stairs - Thursday, we made the big trip. Down Rte 12, all along the seashore. We drove through the village of Rodanthe and on to Hatteras Island. There is a ferry which runs between Hatteras and Ocracoke Island - a pleasant 40 minute trip. After lunch in Ocracoke, we looked in one or two souvenir stores, and endured some unfortunate unpleasantness when Emily was afflicted with traveler's distress.

After getting Emily under control, we took the ferry back to Hatteras and found the Hatteras lighthouse. There are stairs inside the lighthouse spiraling up to an observation platform about 160 feet up. I was the only one who made the attempt. Lise and the girls stayed on the ground and waited for me to appear at the top.

Friday, Day 7 - Beach Babies - Friday was the warmest day of the week, and so we spent most of the morning on the beach, trying out the ocean. It was said that the ocean was cold at that time of year - maybe 60-62 degrees water temperature. That didn't seem cold to me - I remember going to Hampton Beach in NH in the middle of July when the temperature was similar.

The girls enjoyed running away from the waves, screaming all the way. They also discovered the joys of digging in the sand. And getting buried in the sand. Abby's happiest moment, I think, was when she laid down and we covered her up to her neck.

Supper for our last night was at The Weeping Radish in Manteo. Good German food. And beer.

Saturday, Day 8 - The Long Drive Home The weather was pleasant for our drive home. We left the seashore at about 8:40 and took it easy getting home. We stopped for a picnic lunch, and then in the middle of the afternoon at a farm stand just ourside Winchester, VA. When we finally arrived home, the girls helped to unload the van. I think they were glad that there was not four flights of stairs to ascend. And with that, we put them to bed.

- Byron
---
Tuesday, June 15, 2004 @ 08:01 AM


I am a fridge?

Congratulations!

You are a fridge! You can keep your cool, even when faced with a heated situation. You enjoy being the center of attention, and people come to you for advice or when they want something. People also like to stick things to the front of your body.




what kitchen utensil are YOU?

OK, it's just a silly quiz. Don't know about the "sticking things to the front of [my] body" part, though. Got the link from Valerie

- Byron
---
Wednesday, June 02, 2004 @ 08:50 PM


Gems for today

Today, I was quizzing the girls about how old they are, and Abby piped up with "I born in New "Hamper!"" Later, when discussing the fact that Daddy was going up in an airplane, I asked who drives the airplane. Emily replied, "The Pirate!", with a pleased grin on her face.

Who says life with little children is boring?

- Lise
---
Tuesday, June 01, 2004 @ 09:06 PM


So now she's listening to the weather reports

Today, Emily asked (over and over and over again): "Maybe rain today?" Mom wanted to know why she was asking that: "Where did you hear that?"

"On the radio" came the reply.

- Byron
---
Tuesday, June 01, 2004 @ 09:06 PM


It's a good thing they have deacons....

... to let them know these things.

From the newsletter of a church (not our own), listing the minutes of a recent business meeting:

The Deacons reported that God continues to bless.

But then again, maybe some people need the reminder.

- Byron
---
Saturday, May 15, 2004 @ 02:00 PM


A Non-Blog Non-Entry

Well, there doesn't appear to be much here since the pre-election comment on Toomey. Well, Toomey lost the primary to Specter by 12,000 votes out of 1.something million. Thanks to G. W. Bush and R. Santorum for standing for the Party over Principles.

Life continues here, including a recent trip to the Outer Banks that had its high and low points. More on all that later. Now, time to enjoy a pleasant Saturday afternoon.

- Byron
---
Monday, April 26, 2004 @ 08:32 PM


For PA Residents Only

Tomorrow, April 27, is election day in the Commonwealth. The most important race is on the Republican primary ballot - Arlen Specter, a RINO, the incumbent, and Pat Toomey, the conservative challenger. Latest polls have Toomey and Specter in a dead heat. Pennsylvania is a "closed primary" state - meaning that you have to declare a party affiliation at registration and then vote in that party's primary at primary time. This is one time when I'm glad that I checked the "Republican" box.

If you live in PA, please get out and vote Toomey.

- Byron
---
Sunday, April 25, 2004 @ 09:27 PM


New Musical Terms

Adagio Frommagio - To play in a slow and cheesy manner.
Angus Dei - To play with a divine, beefy tone.
A Patella - Unaccompanied knee-slapping.
Frugalhorn - A sensible, inexpensive brass instrument.
Dill Piccolino - A wind instrument that plays only sour notes.
Approximento - A musical entrance that is somewhere in the vicinity of the correct pitch.

Passed along to me by my friend, the choir director. The only notation on the paper is Submitted by E. T. Thompson.

- Byron
---
Thursday, April 22, 2004 @ 10:40 AM


Now that she's active again....

Valerie's "on hiatus" status has been removed. And, she's added this non-blog to her blogroll under "Not."

- Byron
---
Wednesday, April 21, 2004 @ 08:41 PM


Page 23

An idea from Kelly.

"This is useful for system administrators who have standardized a particular version of PHP for use on their web servers."

From PHP - Your visual blueprint for creating open source, server-side content. Not very exciting, but it was the closest book. (PHP is something I dabble in.)

Now here's the instructions, so you too can follow the herd:

1. Grab the nearest book.
2. Open the book to page 23.
3. Find the fifth sentence.
4. Post the text of the sentence in your blog (or non-blog) along with these instructions.

- Byron
---
Wednesday, April 21, 2004 @ 01:13 PM


SCARY PIRATE SHEEP DAY!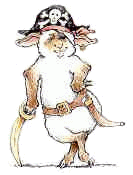 Today is "Scary Pirate Sheep Day". Make sure to wish your administrative assistant a warm Scary Pirate Sheep Day.

Or, if you're in the mood for anagrams, figure out what Day it really is. Minimum word length 5, maximum number of words 2.

- Byron
---
Tuesday, April 20, 2004 @ 03:09 PM


A Day of Shadows

Today has been a day of shadows...usually that means that the sun is shining and today that is true, but the shadows I'm talking about work whether the sun is out or not.

My daughters love to imitate what I am doing (they imitate their Dad, too, rather well!) Today, I had two girls taking turns with their little red vacuum cleaner, while I used the big blue one. Afterwards, since I perspire a lot when I'm active, I took a blue towel out to wipe my face and toss it over my shoulder. And sure enough, right behind me were two little girls with towels on their shoulders.

Make Way for Ducklings anyone?

- Lise
---
Sunday, April 18, 2004 @ 08:42 PM


Storage Units

Never, never get a storage unit and put everything in there without any order or pattern, thinking "Well, we'll be in a bigger place in the spring, so we don't need to be too particular about where the boxes of spring clothes go."

You'll wind up needing those boxes sooner than you think.

And you won't be able to find them.

- Byron
---
Sunday, April 18, 2004 @ 08:42 PM


No Spring

Here in the southwesteren part of PA, we tend to go directly from winter to summer, temperature-wise. Spring happens for about two hours in the afternoon one mid-April day, then it's over.

About 2 weeks ago, we had freezing temperatures and snow flurries. This past week, we had enough rain to cause substantial flooding along the stream. Areas that were once field became expanses of muddy water. Houses that were close to the stream became surrounded and looked like the little cottages that float on the lagoon at Presque Isle State Park on Lake Erie. Several roads were overrun by the waters. I was glad that we have the high ground - high enough to keep us clear of the floods.

Friday, the weather was absolutely wonderful. Saturday was a little warmer, and today, Sunday, hit 82 in our little village. It was probably 3-5 degrees warmer closer to the city. So, summer is here, at least by the thermometer. But the lack of leaves on the trees and a glance at the calendar tells us that there's more signs of summer to come.

Like the humidity.

- Byron
---
Saturday, April 10, 2004 @ 09:45 PM


He Is Risen, He Is Risen

Said the angel, "He is risen!"
Tell it out with joyful voice:
He has burst His three days' prison;
Let the whole wide earth rejoice:
Death is conquered, we are free,
Christ has won the victory.

Come, ye sad and fearful hearted,
With glad smile and radiant brow!
Death's long shadows have departed;
All our woes are over now,
Due to passion that He bore—
Sin and pain can vex no more.

Come, with high and holy hymning,
Chant our Lord's triumphant day;
Not one darksome cloud is dimming
Yonder glorious morning ray,
Breaking over the purple east:
Brighter far our Easter feast.

He is risen, He is risen!
He has opened heaven's gate:
We are free from sin's dark prison,
Risen to a holier state;
And a brighter Easter beam
On our longing eyes shall stream.

He Is Risen, tune Neander

May your Easter day be bright with blessings as we celebrate the resurrection of our Lord.

He Is Risen!
He Is Risen, Indeed!

- Byron
---
Thursday, April 08, 2004 @ 10:02 PM


Out In The Country
<! start of a table> <!this table has two rows - the TR /TR, each of two columns - the TD /TD set. Each cell contains an image (IMG) and words which make up the link.> <! start of first row>
<! start of first cell in first row>
Daffodils blooming
<! end of the cell (column)> <! below are examples>

A Titi tree
<!end of first row> <! end of second row>
<! end of table>

When I was a little girl, I lived in the country and enjoyed being out in the woods behind our home, and just enjoyed the freedom that living in the country brings with it. It's been a long time since then, but we're finally back in the country! I've been enjoying the delight of discovering the different trees, shrubs and flowers that are around our new home. Now that it's spring all sorts of things are popping up. There are clumps of daffodils everywhere I look. It looks like someone took a handful of bulbs and just tossed them everywhere. Right near the side door there is one tiny yellow crocus, and the other day I found a beautiful white one right near the road. Tiny yellow flowers which I haven't identified yet have been blooming beside the road under our mailbox for a few weeks now. I've seen a few violets, and some tiny flowers that look like they belong in the daisy family, but I'm not sure of their particular name. I searched for a while before I found a name for the tree that grows outside the door. The leaves were on all winter, so I know it's a type of evergreen, but when spring began, all of a sudden I started seeing white flowers that look like lily of the valley hanging from this tree. This is called a Titi tree (or for those for whom the botanical name is more important - cyrilla racemiflora). I'm waiting rather impatiently for the clump of buds which are growing out near our leave-and-twig burning pile to see what they will turn out to be. I think we may have some stray tulips! All this to say that God's glory is blooming everywhere. Thank you, Lord!

- Lise
---
Thursday, April 08, 2004 @ 01:20 PM


The Die is Cast

The Moose family will definitely be going north.

It sure is hard to get hotel reservations for Erie, though! You'd think that something important was going on.

- Byron
---
Wednesday, April 07, 2004 @ 01:56 PM


Moose to the North!

The possibility exists (at least it has been raised with Mommy Moose, who was amenable to the idea) that there will be a family of Moose traveling north towards Erie for this, particularly Friday when this group performs. Note that the Arts Festival web site has no information - all it says right now is More information coming soon. But the Tanglefoot schedule shows that they will be there on Friday. We just don't know when Friday.

- Byron
---
Tuesday, April 06, 2004 @ 07:35 AM


More New Links

To quell the rising hubbub, two new links have been added to the blogroll: Anne, The Clinging Vine and Kelly, the Badger Mum and an Official Prairie Muffin.

It's now April 6, and the temperature this morning was 22 degrees. That's degrees F, not C! This is supposed to be springtime! At least the snow from last weekend has mostly melted in the 40 degree weather yesterday.

- Byron
---
Thursday, March 25, 2004 @ 12:49 PM


New Links

Oh goodness, look how much time has elapsed since the last entry. I shall have to add some information. But not now.

I have, however, added a few other blog links to what I believe is called a "blogroll." Sounds like a sandwich to me. I figured that it was the least I could do for Gnu, since he is the first one to have found this and linked it.

- Byron
---
Saturday, December 20, 2003 @ 09:17 PM


In The Deep Mid-Winter

Well, it's not exactly the deep mid-winter; in fact, it's not even winter officially. That starts tomorrow. But we've had enough snow in the last week to make it look like winter here, and to ensure that we will, in fact, have a white Christmas.

We are continuing to settle in to the new house. The decor is slowly becoming less and less "American cardboard box" and becoming more and more "our stuff here and there."

We spent Thanksgiving quietly. It was quite nice to have four days in a row off from work to spend at home. The Saturday preceding turkey day, we went to the Christmas parade in Greensburg. The temperature was about 63 degrees, rather warm for late November. The girls scored a lot of candy from the people in the parade.

The weekend following Thanksgiving, we had a visit from our missionary friends Dave and Deb Barton. He is a pilot with Wycliffe Bible Translators in Papua New Guinea, and they and their two year old son are in the US for a year "home assignment." I can remember when they used to be called "furloughs."

Dave and Deb arrived in the middle of a snowstorm, but made it to the "Frank Guest House" all right, if later than expected. Saturday, we all hung out and caught up on old times. Sunday, we visited a church nearby that has supported them in the past. Dave and Deb were given the entire time that would normally have gone for the sermon.

Last weekend, we enjoyed a small party at a friends house. The girls were fascinated by their dog. They wanted to pet it, but were scared of it. At one point, Emily was sitting in the hall, with her legs spread apart, saying "here doggy, here doggy."

Lise and I also had the rare treat of a night out when a friend babysat the girls. We went for Mexican food at the best Mexican restaurant around, conveniently located 5 minutes from the new house. We had thought about doing Christmas shopping for the girls, but that was substantially done already, so we took the night for ourselves.

Last night we went to see the Overly's Light Display nearby. After driving through, we stopped and walked around a bit. The girls each sat on Santa's lap, we took a wagon ride, and stood by the fire for a while to warm up. The girls really enjoyed the evening.

Christmas is coming, and the tree is up. It keeps gathering presents; each day this week brought one or two more boxes to our door. The girls are rather excited; they were jumping up and down about getting the tree last weekend, and are looking forward to the day when they can tear into all those packages.

Here's hoping you and yours have a very happy and Merry Christmas.

Here's a few pictures. Enjoy.




- Byron
---
Monday, November 10, 2003 @ 02:52 PM


The Move Is Done

We are now officially not living in Greensburg anymore. Our move to the country was made on Saturday, November 8. I won't say that it's complete, because it's not. There is still much to be unpacked and still a not insignificant amount of items remaining at the old house. We're going to leave some things there because it will "show" better, and we're going to be hosting some friends in December, so we'll let them stay at our "guest house."

But, we're living in the country now, and the girls seem to get a kick out of their new house.

Still to do - hook up the washing machine, unpack boxes, hook up the stereo, unpack boxes, hook up the TV and VCR and DVD, unpack boxes, try to find a place for everything, etc. etc. etc.

-- Byron
---
Wednesday, October 29, 2003 @ 08:54 AM


We are still here!

Yes, we're still alive and well. We really did spend more than one day in Williamsburg, and more of that story will be coming.

Since returning from Williamsburg, I've been to Sweden on business, visiting Stockholm and Vasteras, a city of 120,000 about 1 hour by train from Stockholm. One of the interesting delicacies I tried was moose. I could have had some reindeer, too, but I was afraid that the plate would come with a glowing red nose on top.

We are counting down the days until moving day, November the 8th. That when we move to our little cabin in the woods. (Scroll down for some pictures.)

The girls are keeping busy with pre-school, occupational therapy, and will be starting speech therapy. For their halloween party at pre-school, they will be princeses, complete with the appropriate princess crowns direct from the Royal Palace gift shop in Stockholm. We probably won't go trick or treating around the neighborhood; the local high school football team made the playoffs, and that's going to be the big thing to do on Friday night. Don't know if we'll make it or not.

-- Byron
---
Sunday, October 05, 2003 @ 09:19 PM


Williamsburg Trip - Day 1

We're a little behind here, but we'll try to get the account of our Williamsburg trip up little by little.

Saturday morning, we got up and finished doing some packing. I headed to the barber shop first thing to take care of some business. I came back with a bit less on top than before.

We finally cleared out at around 10 AM, and after a quick stop were on the road. Lunch was taken at the Hardee's in Breezewood, PA - the town of motels. We continued on to I-70 towards Washington, DC.

Hurricane Isabel was on our minds a little bit. It had come ashore on the previous Thursday, scoring a direct hit as a Category 2 storm on the Outer Banks in North Carolina. Friday, it arrived in Pennsylvania. We had a lot of rain, and some wind, but nothing very spectacular. We've had more intense summer storms that dumped more water. But we didn't quite know what to expect when we got closer to the shore. We had read stories about power outages, but did not know the extent of them.

Our first inkling came in Maryland, as we approached DC on I-270. We had to make a stop, and got off at one exit. The first set of lights was on, but at the next set (where the gas stations were), the lights were out, and there were policeman directing traffic. We didn't stop, and got back on the highway.

After getting on the Beltway, we exited just before going over the Potomac River, and found ourselves headed into a park. But the facilities there were closed, and there was quite a lot of branches and debris down. We got back on the Beltway.

The next time we got off, it was at Tyson's Corner. There was plenty of power at this exit - all the lights were working. After driving around in a circle for a bit, we wound up at the one of the largest malls in the DC area. But they did have the facilities we needed. And also a Haagen Daaz store which served a good (but expensive) frozen coffee drink.

The rest of the trip to Williamsburg was uneventful, but we started to notice more and more trees down as we approached on I-64. We got off at our exit, and the first set of lights were out. So was the second set. So was the third. We had no trouble finding the hotel / condo site, and drove in. The main hotel building had a large sign which read "Hotel Closed." There was a generator running, however.

I followed the cord attached to the generator, and found a room with lights and computers and people checking folks into the condos. They acted as if nothing was amiss. They directed us to some supermarkets, and indicated which road had power. I asked if our unit had power, and was assured that yes, it did.

So, there we were - vacationers in the middle of a blackout, on perhaps the only stretch of road that actually had electricity, in a decent one bedroom unit with air conditioning.

The unit had a living room with a sofabed, a dining room and kitchen, and a bedroom with a double bed. The bathroom was connected to the bedroom, but was also accessible through the whirlpool tub room which also had a door to the living room.

The girls slept in the bedroom, and we slept on the couch. This let us stay up and watch TV later. We were still able to get into the bathroom without disturbing the girls - this was a plus.

For supper, we started driving down the main drag - US 60. There were lines out into the street at the gas stations, and some restaurants were not open at all. We found one called the Yukon Steak Co. The menu was rather abbreviated - the place had no water available for cooking or drinking. The girls had what amounted to a Shirley Temple - soda water made pink. They didn't care for it too much.

After dinner, we found a gas station with a shorter line and filled up the van. We were behind a truck that was filling up several gas containers, presumably for generators.

After we got gas, we had to stop at a supermarket. I decided to head to the Ukrops south of town, as I was told they were open. I knew how to get there, too. By now it was dark, and all the stoplights on the way there were out. I almost drove through one intersection without realizing it because it was so dark. I also found out that most people don't know how to drive when they approach an intersection where the lights are out.

But the Ukrops was open, and we got what we needed. While Lise was in the store, I waited with the girls in the car. I met a trucker who lived in California, and had driven his load from Houston, and arrived in Williamsburg Friday. Nobody was around to take his load, so he slept in his truck. Nobody was around Saturday either, so he was going to have to wait until Monday. We talked about where there would be hotels that were open, and I gave him my map of the area. I hope he found a place to stay that was better than his truck.

We arrived only about 1-2 hours before sunset, and did not have an opportunity to look around much, but we did get the feeling that there was a large number of trees down and general damage wreaked by the storm. Throughout the week, we'd find out just how bad it was.

The girls were tired and went right out. We were not even sure if we would be able to get to church Sunday morning.

- Byron
---
Monday, September 29, 2003 @ 01:38 PM


Back from a Trip

We returned from Williamsburg, VA on Saturday the 20th at suppertime. Just in time to order chinese food, which the girls love. And it saves on cooking and cleanup.

I'm sure that over the next several days, there will be little updates appearing here about our adventures in Williamsburg.

One quick point: It's always interesting to go on vacation in an area that was recently hit by a hurricane.

- Byron
---
Friday, September 19, 2003 @ 10:21 PM


Emily and Isabel

Emily's response to the passing of hurricane Isabel, tonight at the supper table:

"Please make sun come out Amen."

Yup - gotta agree with that one.

- Byron
---
Thursday, September 18, 2003 @ 01:09 PM


Moving East

Well, we did it. Last night we signed the lease for a little cottage in the woods. We'll move there sometime in Novemer, sell our house, and live in the cottage while we look for a bigger house. Here's some pictures:





At last the girls will have some room to run and play!

- Byron
---
Tuesday, September 09, 2003 @ 09:29 PM


Happy Anniversary!

So, after all that adventure with Abby, we still had an anniversary to think about. Lise dropped me at the office on the way home from the hospital. I expected to get a ride with a friend, but he wasn't there. Lise came to pick me up and I figured the least I could do was to take us to supper somewhere. We found a place called Sam Morgan's, with good food, good-sized portions, and reasonable prices. The girls loved their supper and behaved reasonably well. I had trouble finishing the chicken po-boy - it was quite large. And Lise had a steak salad - the proper Pittsburgh kind, with french fries and shredded cheese on top.

Before Lise left the house to pick me up, she found that she couldn't back the van out becuase there was a man standing behind her trying to get her attention. It was the flower delivery man, with a dozen roses. (Now who could have sent those?)

Happy Anniversary to Us!

- Byron
---
Tuesday, September 09, 2003 @ 09:23 PM


A Visit to the Hospital for an EEG

Tuesday, in addition to being the day of our anniversary, was also the day for Abby's scheduled EEG. We had instructions to appear for a 9:30 appointment with a tired little girl.

The girls thought it was really neat to stay up Monday night and watch football until 10 PM. When we finally put them to bed, Abby was asleep before we were done praying. (I love it when they do that.) There was no question about putting one down and keeping the other up. If one does it, the other one must also.

In the morning, we had to get them up at 6 AM. We made it to the hospital in plenty of time to get checked in.

We didn't get the mean technologist from the time before; we got one who was at least sensitive to the fact that Abby might be nervous. This technologist also preferred that Mommy not stay in the room - too distracting, she said. In retrospect, it might have been a good idea for mommy to be there to settle Abby down. The tech said she was fussing about getting all those electrodes put on, and they had to swaddle her so that she didn't pull them all off. When they laid her down to begin the test, she was rather annoyed, and lifted her head and screamed every now and then. Another Dr. came in and stroked her cheek, which helped some. She never did fall asleep - she was too nervous. (When we left her, she looked as nervous as a cat in a room full of rockers.) The tech did say she was able to get some good readings, and that it wasn't absolutely necessary that she fall asleep. So now we wait for the results.

While we were waiting, Emily had fun hanging out with Mommy and Daddy. We wandered around the hospital, found a toy train display, got a snack in the cafeteria, and visited a small courtyard. Emily was trying to make friends with a pigeon. The pigeons are so used to people that she was able to get within inches of the thing. I think she was talking to it as well, but I don't know what she was saying.

But Emily did miss her sister - kept asking "Find Abby?"

I helped Emmy pick out an overpriced book from the gift shop for Abby. We were walking back to the waiting area, and happened to go past the door into the area where Abby was having her test. I glanced through the window, and Abby was just coming out of the room. I told Emily to go look in and see who she saw - Zowie! It was like they'd been apart for a month! Emily gave Abby the book, Abby gave Emily a hug, and I tried to get the information from the tech. It was a Happy Reunion.

- Byron
---
Tuesday, September 09, 2003 @ 09:11 PM


A Walk Around the Diamond

Sunday after church, we left the girls with friends of ours. They had graciously offered to watch them for the afternoon. Lise and I went to lunch at the local restaurant, and each had a good sirloin steak. Afterwards, we walked around the town square, known as the Diamond. A Celtic music band was playing at the town gazebo - they were in town for the Highlands Games Festival that weekend. We didn't get up and dance around, but we did enjoy the jigs and reels.

It was a pleasant way to celebrate our anniversary - 14 years together.

- Byron
---
Tuesday, September 09, 2003 @ 12:32 PM


I Love a Parade

Saturday was the first parade for Emily and Abigail. No, not the first parade they've ever seen, but the first parade they've ever "marched" in. Their pre-school was marching in the local Community Days parade. The entire route was about 1/2 mile long. Any more, and they wouldn't have made it.

The parade occurred at the time when the girls are usually napping. So, they weren't in top form - they rather would have been home in bed. But the brave little troopers marched along, urged on by mommy and daddy. They were given bags of candy to pass out. Emily's idea of throwing candy to the crowd was to take one piece, break from the parade route, go to the sidewalk, and lay it gently at the feet of the recipient. Eventually, mommy and daddy were the ones throwing the candy out.

The parade tired everybody out so much that we had Chinese take-out for supper.

- Byron
---
Monday, September 08, 2003 @ 03:00 PM


Cookouts and Basketball

Last Thursday evening, we all attended an evening cookout. It was supposed to be at the house of a friend, but with the rain coming down all day, it was decided to change the venue. Fortunately, this particular friend is the director of a summer camp and conference center, so we had use of the large pavilion for the event. There was a large fireplace at one end, with some tables and chairs set up. The traditional tube steaks were offered up on sticks to the fire, and we added macaroni salad and chips to our dinner.

At the other end of the pavilion (it was about 100 x 40 feet by 18 feet tall at the peak), there were two basketball hoops, and basketballs were available. The girls spent most of the evening "playing basketball" - that is, carrying them around, throwing them, and then running after them with the other children. The grounds were still somewhat damp, and when the girls took a tumble, they both got thoroughly dirty. But they also enjoyed themselves tremendously, and kept repeating "I like playing basketball!"

- Byron
---
Wednesday, September 03, 2003 @ 02:04 PM


Uncoordinated Unblogging

I guess that's what you can expect when two people have something exciting to say, and only one place to say it.

- Byron
---
Wednesday, September 03, 2003 @ 02:02 PM


Preschool and Eyes

Yesterday (Tuesday) was the girls first day at pre-school. They are attending two days a week, for 2 hours per day. The first day, they came home with "goodie bags," and so thought that it was their birthday all over again. The first big "event" for the pre-school is marching in the town community days parade this Saturday. Mom and Dad have to march with them.

The other blessing of pre-school is that it gives Mom a small break during the day.

Today was the girls' eye checkup. Their prescriptions have changed, but not very much. The doctor said "no hurry" to get them filled, but it's also time for new frames, probably, so we'll bite the bullet and get it done all at once. Both girls' eyes are tracking quite well, and continue to improve. (It was one year ago that Abby had surgery to correct a very pronounced lazy eye.) We're quite pleased with their progress.

Oh, and if you ever wanted to know the answer to life, the universe and everything, Google knows!

- Byron
---
Wednesday, September 03, 2003 @ 01:17 PM


First day of school

Yesterday was a milestone in the Moose family's home. Abby and Emily started preschool! We don't know whether it was harder on Mom or the girls....
---
Sunday, August 31, 2003 @ 09:23 PM


Zambonis?

The other day I served bologna and cheese to Abby and Emily for lunch. Later that day, I was combing Emily's hair which was all sticky. I asked her what she had for lunch which made her hair all sticky and she said... "Zamboni"! Life is never dull here.
- Lise